1.3 DIXIDOX DE LUXE PEELING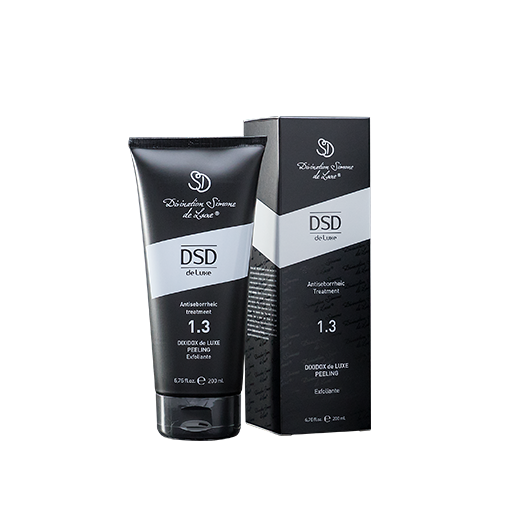 This product is based on the complex of fruity acids and salicylic acid, botanic extracts and apricot kernel powder. Natural fruity acids contribute to the superficial keratin flakes removal (chemical peeling), exhibit a powerful moisturizing and water-retaining effects, activate immune resistance and create a sensation of freshness, softness and velvety feeling to the scalp. The product actively cleanses the scalp, exerts a seborrhea-regulating effect and removes hyperkeratosis sings. Helps reduce hair loss and prevent appearance of dandruff.

Directions: Apply some small amount of the product to dry or wet scalp and distribute it with light massage motion. Leave it on for 5-15 minutes. For maximum results, rinse with the antiseborrheic shampoo Dixidox De-Luxe 1.1 and apply Antiseborrheic Lotion Dixidox DeLuxe 1.4 afterwards. Use the product once a week, unless otherwise recommended by a specialist.

Precautions: Do not swallow. The product is exclusively for external use only. Do not use if you are hypersensitive to any of the ingredients in the formula. Avoid contact with eyes, if product spills - immediately rinse abundantly with plenty of lukewarm water. No contraindications. No interactions. No side effects have been noted.
Ingredients: AQUA (WATER), CETEARYL ALCOHOL, PROPYLENE GLYCOL, PRUNUS ARMENIACA (APRICOT) SEED POWDER, ALCOHOL DENAT, CETRIMONIUM CHLORIDE, ISOPROPYL ALCOHOL, PANTHENOL, HYDROLYZED KERATIN, CAPSICUM (CAPSICUM FRUTESCENS) EXTRACT, THIAMINE HCl, RIBOFLAVIN, PYRIDOXINE, FAEX (YEAST) EXTRACT, LANOLIN, EUCALYPTOL, NIACINAMIDE, MENTHOL, TARTARIC ACID, SALICYLIC ACID, MALIC ACID, GLYCOLIC ACID, SODIUM HYDROXIDE, PHOSPHORIC ACID, QUATERNIUM-80, HYDROXYETHYLCELLULOSE, LACTIC ACID, CELLULOSE, SODIUM ACETATE, CITRIC ACID, PHENOXYETHANOL, METHYLISOTHIAZOLINONE, METHYLCHLOROISOTHIAZOLINONE, DEHYDROACETIC ACID, BUTYLENE GLYCOL, PARFUM (FRAGRANCE), BENZYL ALCOHOL, LINALOOL, HEXYL CINNAMAL, GERANIOL, D-LIMONENE, CITRAL, BENZYL SALICYLATE.