3.4.3B FRESH CELLS DE LUXE WONDERCELL CONCENTRATE (10x10ml)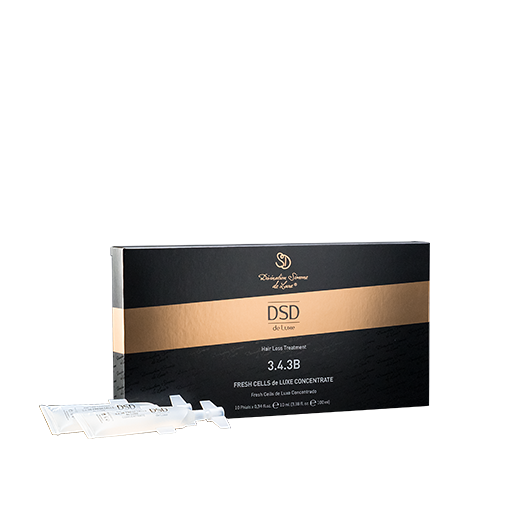 Fresh Cells de Luxe Concentrate has beneficial influence on hair growth. The Concentrate contains CEGABA, a new stimulating agent for hair growth. CEGABA N-Carboxyethyl Gamma-Aminobutyric Acid Gamma-hydroxybutyric acid is a well-known neurotransmitter present in high concentration in the brain structures. Carboxyethyl gamma-aminobutyric acid is obtained through amino acid synthesis. The substance obtained exerts stimulating activity, enhancing the mitotic activity of cells without any toxic effect. According to the data of clinical trials conducted by GATTEFOSSE ' SAS (France)*, the hair growth stimulating effect obtained in the group receiving CEGABA is comparable with the efficacy of minoxidil, however in the CEGABA group positive results are achieved faster and with no side effects. It is effective both as monotherapy and in combination with vitamins and amino acids. In combination with Saw Palmetto, apple stem cells, antioxidant, vitamin and mineral complex, placental and soy protein of Fresh Cells Lotion, it achieves pronounced effect of hair growth, even in severe forms of alopecia.
*Metabolic meaning and preliminary results in trichology: Italian – French SICC- SFC Symposium on Natural Extracts in Cosmetology, Chamonix, June 1987 and COSNGG, 60, 176 – 187 (1998) (Trichological evaluation gives a first good evidence of the effects of Carboxyethyl Aminobutyric Acid (CEGABA) in restoring the equilibrium of hair loss /hair growth).
Directions: Shake well before using. Apply 2 ml of lotion to dry or wet scalp and distribute it using light massage motion. Do not rinse, allow the active ingredients to exert their curative effects. The treatment course lasts 3 months, unless otherwise recommended by a specialist. For maximum results, use lotion after washing with Dixidox DeLuxe Intense Shampoo 3.1.
Precautions: Do not swallow. The product is exclusively for external use only. Do not use if you are hypersensitive to any of the ingredients in the formula. Avoid contact with eyes, if product spills - immediately rinse abundantly with plenty of lukewarm water. No contraindications. No interactions. No side effects have been noted.
Ingredients: AQUA (WATER), ALCOHOL DENAT, HYDROLYZED SOY PROTEIN, CARBOXYETHYL AMINOBUTYRIC ACID, SERENOA SERRULATA FRUIT EXTRACT, MALUS DOMESTICA FRUIT CELL CULTURE, EUTERPE OLERACEA PULP POWDER, PHOSPHOLIPIDS, NIACINAMIDE, XANTHAN GUM, PROPYLENE GLYCOL, GLYCERIN, SORBIC ACID, SODIUM BENZOATE, POTASSIUM SORBATE, PHENOXYETHANOL.