3.4.5A SCIENCE-7 DE LUXE LOTION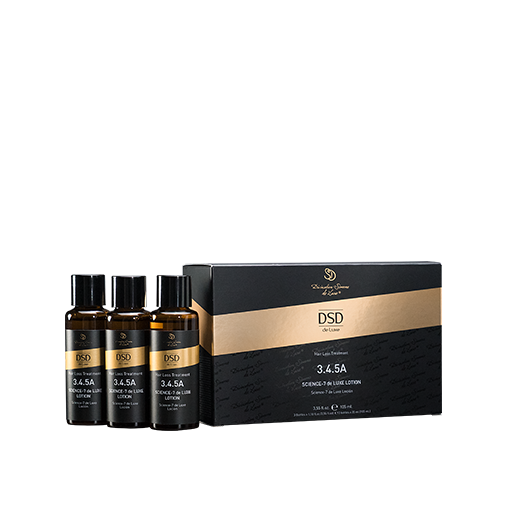 Science-7 DeLuxe Lotion contains CEGABA which exhibits stimulating properties by increasing the mitotic activity of cells without any toxic effect. Biologic extract obtained from bovine placenta stimulates hair strength and increases the oxygen consumption of epithelial cells. It contains vitamins with anti-oxidant, moisturizing and protecting properties. This lotion includes vitamins from B group that show a regulatory activity on sebaceous glands and moisturize hair and scalp. Zinc action reduces the secretion of sebaceous glands by inhibiting the 5-alpha-reductase, involved in dihydrotestosterone production and helps to avoid follicle hyperkeratinisation. Saw Palmetto Extract (Serenoa Serrulata Fruit Extract) contains carbohydrates, flavonoids, phytosterols, fatty components, tannins, amino acids, essential oils and resins. It has anti-inflammatory and antiandrogenic properties.
Directions: Shake well before using. Apply 2 ml of lotion to dry or wet scalp and distribute it using light massage motion. Do not rinse, allow the active ingredients to exert their curative effects. The treatment course lasts 3 months, unless otherwise recommended by a specialist. For maximum results, use lotion after washing with Dixidox De Luxe Intense Shampoo 3.1. In cases of intense hair loss and thinning it is recommended to combine lotion with Science -7 De Luxe Essential Oils 3.4.5B. In this case apply Science-7 de Luxe Lotion 3.4.5A 30 min prior to the Science-7 de Luxe Essential Oils 3.4.5B.
Precautions: Do not swallow. The product is exclusively for external use only. Do not use if you are hypersensitive to any of the ingredients in the formula. Avoid contact with eyes, if product spills - immediately rinse abundantly with plenty of lukewarm water. No contraindications. No interactions. No side effects have been noted.
Ingredients: AQUA (WATER), ALCOHOL DENAT., PLACENTAL PROTEIN, BIOTIN, RETINYL PALMITATE, SERENOA SERRULATA FRUIT EXTRACT, TOCOPHERYL ACETATE, PANTHENOL, CARBOXYETHYL AMINOBUTYRIC ACID, GLYCERIN, THIAMINE HCl, INOSITOL, AESCULUS HIPPOCASTANUM (HORSE CHESTNUT) SEED EXTRACT, FAEX (YEAST) EXTRACT, RIBOFLAVIN, PYRIDOXINE HCl, SACCHAROMYCES/IRON FERMENT, NIACINAMIDE, SACCHAROMYCES/MAGNESIUM FERMENT, SACCHAROMYCES/COPPER FERMENT, SACCHAROMYCES/SILICON FERMENT, SACCHAROMYCES/ZINC FERMENT, ETHOXYDIGLYCOL, TRIETHANOLAMINE, SODIUM HYDROXIDE, PROPYLENE GLYCOL, PEG-40 HYDROGENATED CASTOR OIL, SODIUM SUCCINATE, SODIUM CHLORIDE, PROPANEDIOL, POTASSIUM SORBATE, SODIUM BENZOATE, CHLORPHENESIN, PHENOXYETHANOL, POLYSORBATE 20, PARFUM (FRAGRANCE), HEXYL CINNAMAL, CITRONELLOL, CI 28440, CI 16255, CI 19140 (FD&C YELLOW 5).