3.4.5B SCIENCE-7 DE LUXE ESSENTIAL OILS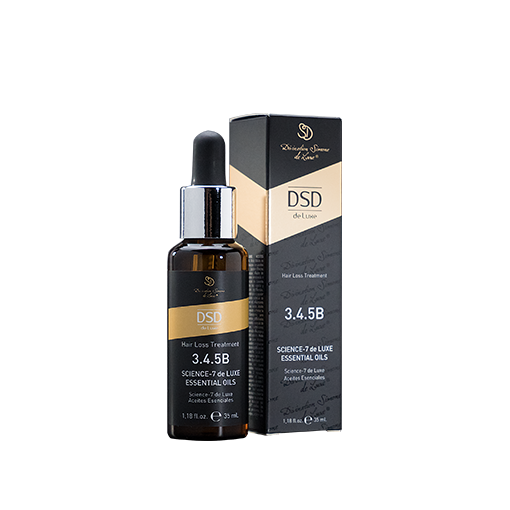 Science-7 De Luxe Essential Oils consists of basic oils and essential oils complex. Jojoba oil brings shine and softness to hair, manifests regenerative and anti- dandruff effects; grape seed oil provides emollient and moisturizing properties; lavender essential oil promotes hair growth and increases the rate of wound healing, helps to strengthen hair and revive hair growth, it also regulates sebum production and is helpful for controlling dandruff; thyme essential oil is very useful in promoting hair growth and reduce hair loss; atlas cedar essential oil helps to stop hair loss, especially related to stress, it is also an excellent aromatherapy essential oil for balancing oily and dandruff scalp conditions; rosemary essential oil decreases oily secretion, prevents dandruff and stimulates hair growth.
Directions: Shake the lotion before using. Apply a few drops of the Science-7 de Luxe Essential Oils to the problem areas of the scalp and distribute it using light massage motion. Do not rinse, allow the active ingredients to exert their curative effects. Use the product on a daily basis. The treatment course lasts 3 months, unless otherwise recommended by a specialist.
Precautions: Do not swallow. The product is exclusively for external use only. Do not use if you are hypersensitive to any of the ingredients in the formula. Avoid contact with eyes, if product spills - immediately rinse abundantly with plenty of lukewarm water. No contraindications. No interactions. No side effects have been noted.
Ingredients: VITIS VINIFERA (GRAPE SEED OIL), SIMMONDSIA CHINENSIS (JOJOBA) SEEDS OIL, THYMUS VULGARIS (THYME) EXTRACT, ROSMARINUS OFFICINALIS (ROSEMARY) LEAF EXTRACT, LAVANDULA ANGUSTIFOLIA (LAVENDER) OIL, CEDRUS ATLANTICA, BHT, LINALOOL, GERANIOL, D-LIMONENE.