4.2 DIXIDOX DE LUXE TRIPLE ACTION CONDITIONER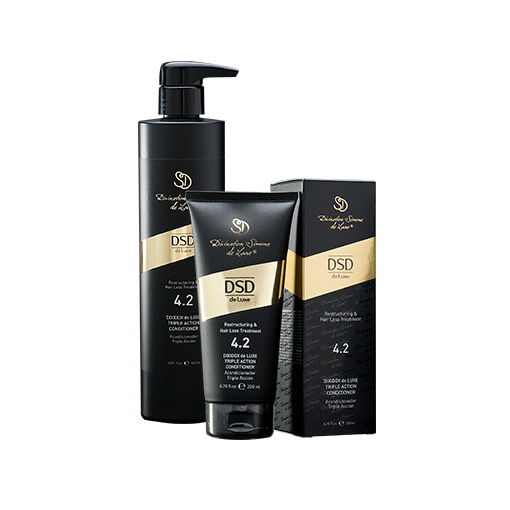 Dixidox De Luxe Triple Action Conditioner improves hair structure and scalp condition, it also promotes hair growth. It contains the components that enhance and regenerate the hair structure, such as shea butter, hydrolyzed collagen, keratin, aloe vera and a high concentration of panthenol. Besides hair conditioning agents, product contains the ingredients designated to stimulate hair growth - a protein and mineral complex, enriched with bioavailable compounds of zinc, iron, silicon and magnesium. Its multivitamin complex includes well-known antioxidants and stimulants. The balsam also contains extract of Saw Palmetto, a well known natural antiandrogen.
Directions: Apply an abundant amount of the product to wet scalp and hair. Distribute it using light massage motion. Comb hair using a wide-toothed comb. Rinse out after 5-15 minutes. For maximum results, it is recommended to proceed after conditioner with Dixidox De Luxe Keratin Treatment Lotion 4.4 application.
Precautions: Do not swallow. The product is exclusively for external use only. Do not use if you are hypersensitive to any of the ingredients in the formula. Avoid contact with eyes, if product spills - immediately rinse abundantly with plenty of lukewarm water. No contraindications. No interactions. No side effects have been noted.
Ingredients: Aqua (WATER), Cetearyl Alcohol, Cetrimonium Chloride, Propylene Glycol, Alcohol Denat, Isopropyl Alcohol, Aloe Barbadensis Gel (ALOE Barbadensis Leaf Juice Powder), Biotin, Panthenol, Serenoa Serrulata Fruit Extract, Hydrolyzed Keratin, Hydrolyzed Collagen, Tocopheryl, Acetate , Inositol, Ascorbyl Palmitate, Thiamine Hcl, Retinyl Palmitate, Butyrospermum Parkii, (SHEA) Butter, Faex (YEAST) Extract, Pyridoxine Hcl, Riboflavin, Niacinamide, Saccharomyces / Zinc Ferment, Saccharomyces / Silicon Ferment, Saccharomyces / Copper Ferment, Saccharomyces / Iron Ferment, Saccharomyces / Magnesium Ferment, Cetearyl Ethylhexanoate, Phosphoric Acid, Quaternium-80, Hydroxyethylcellulose, Dimethicone, Cellulose, Glycerin, Sodium Acetate, Dehydroacetic Acid, Sodium Benzoate, Potassium Sorbate, Phenoxyethanol, Butylene Glycol, Parfum (FRAGRANCE), Hydroxycitronellal, Benzyl Alcohol, Eugenol, Isoeugenol, Benzyl Salicylate, Alpha-Isomethyl Ionone, Hydroxyisohexyl-3-Cyclohexene, Carboxaldehyde, Geraniol, Citron ellol