4.4 DIXIDOX DE LUXE KERATINN TREATMENT LOTION (10 phials)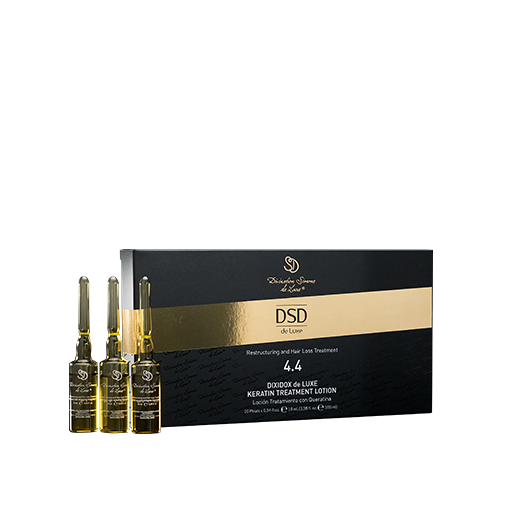 This regenerating keratin containing lotion belongs to double-acting remedies which simultaneously stimulate hair growth and improve its structure. The lotion contains a blend of hair growth stimulants comprising placental extract, vasodilating ingredients, cayenne pepper extract, caffeine, B-group vitamins and yeast extract. Exerts a beneficial influence on the scalp susceptible to seborrheic dermatitis, exfoliates keratinized epithelium, eliminates seborrhea, and provides an antiseptic effect owing to synergism between salicylic acid and resorcinol. Revitalizes and repairs the damaged hair structure due to high concentration of hydrolyzed keratin and collagen. After using the lotion, the hair acquires shine, strength and volume for a long time.
Directions: Shake well before using. Apply 2-4 ml of lotion to dry or wet scalp and distribute it using light massage motion. Do not rinse, allow the active ingredients to exert their curative effects. The treatment course lasts 3 months, unless otherwise recommended by a specialist. For maximum results, use lotion after washing with Dixidox De Luxe Keratin Treatment Shampoo 4.1 and using Dixidox De Luxe Keratin Treatment Mask 4.3.
Precautions: Do not swallow. The product is exclusively for external use only. Do not use if you are hypersensitive to any of the ingredients in the formula. Avoid contact with eyes, if product spills - immediately rinse abundantly with plenty of lukewarm water. No contraindications. No interactions. No side effects have been noted.
Ingredients: Resorcinol, Salicylic Acid, Caffeine, Hydrolyzed Keratin, Hydrolyzed Collagen, Placental Protein, (Capsicum Frutescens) Extract, Faex (Yeast Extract), Thiamine Hcl, Pyridoxine, Niacinamide, Riboflavin.