5.2 Dixidox de Luxe Steel and Silk Treatment Balsam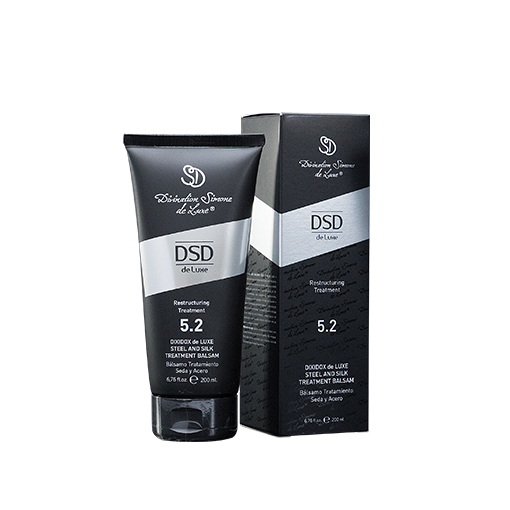 This regenerating balsam is intended to restore the structure of the hair damaged as a consequence of aggregate exposure to unfavorable ecological, thermal and chemical factors, including hair dyeing and excessive solar and heat exposure. High concentration of active ingredients such as phospholipids, sphingolipids, collagen, keratin, hydrolyzed silk, royal jelly extract, algae and vitamins helps to restore the hair structure, both at the levels of the cuticle and keratin fibrils in the cortex. It moisturizes hair without weighting it down. After this balsam, your hairs acquire healthy appearance, get moisturized, become shiny, resilient and voluminous.

Directions: Apply an abundant amount of the product to wet hair, uniformly distribute it all over hair length and comb hair using a wide-toothed comb. Be especially careful when handling longer hair tips. Do not rinse. For maximum results, it is recommended to use this balsam after Dixidox DeLuxe Steel and Silk Treatment Shampoo 5.1. For full completion of the hair care procedure, apply to the scalp and hair Dixidox De Luxe Steel and Silk Treatment Spray 5.5.
Precautions: Do not swallow. The product is exclusively for external use only. Do not use if you are hypersensitive to any of the ingredients in the formula. Avoid contact with eyes, if product spills – immediately rinse abundantly with plenty of lukewarm water. No contraindications. No interactions. No side effects have been noted.
Ingredients: Phospholipids, Sphingolipids, Hydrolyzed Collagen, Ethylhexyl Methoxycinnamate, Hydrolyzed Silk, Orchis Mascula (Orchis Mascula Extract).